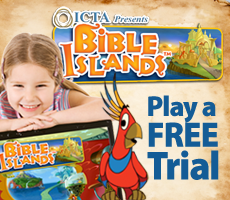 ICTA loves to discover and promote Spirit-Led Technology – and we have an interesting new example for you at this gift-giving time of year! A friend of ICTA has helped develop and promote a fun, exciting and Bible-centered high tech way to offset a bit of our secular culture's lock on kid's attention spans – currently estimated as 42 hours a week of secular TV or video games.
ICTA has been given permission to offer you early access to Bible Islands, a safe, online learning game adventure experience for kids 4-99.

ICTA's Christmas gift to you:  you and your family can all PLAY FREE in Bible Islands with a two-week family FREE Trial Subscription good through January 2nd (it becomes a one-week trial after that.)  Then if you opt to become a member of Bible Islands, using the ICTA link provides access to discounted 6 or 12-month family membership packages.  The makers of Bible Islands will also donate a significant portion of your family membership to ICTA ministry projects.   So check this out, tell us what you think…and pass along to others who may be interested.
More details below the fold…
Bible Islands is a hi-tech education experience for kids, designed to be an attractive and fun online gaming experience to reclaim an hour or two a day from that 4-6 hours a day kids are consuming mainstream media.
Bible Islands introduces kids to Bible stories, character building games and concepts, creative activates and also games in cross-curricular subjects of math, science, English and even Hebrew letters - all from the Christian faith and a "family values" perspective.
Bible Islands also has a completely safe and monitored online communication system for kids to send pre-selected text and picture messages to friends, parents and grandparents who are connected in the Bible Islands' LINKO system.
Play special Christmas games and see Hermie's "Meaning of Christmas" song in Bible Islands' Glueworks Cinema
Bible Islands provides a personalized player account for each child, then it starts at their age appropriate level and grows with them to keep them challenged.  Parents also get a special account to play too, plus a special parent's webpage to guide and monitor their child's progress and time spent in Bible Islands.
Bible Islands features animated characters, stories and music from several popular Christian Children's DVD series (Glueworks, Hermie & Friends, Gigi, God's Little Princes, On the Farm, and many more.)
We would love for you to take advantage of the FREE Play Trial of Bible Islands and tell us what you think (even if you just want to play the Hebrew letter learning games for yourself.) Until January 3rd, you get a two-week free trial that includes Christmas-only games and videos. This is a very dynamic system, with more material being added all the time. (Note: you are welcome to share the link with others.)