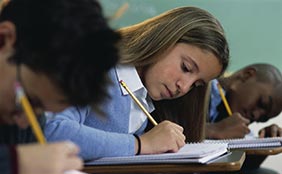 Which do you like better: multiple choice, fill-in or essay tests? Every student has a preference. And so do teachers! For example, essay tests are disappearing, partly because they take longer to grade and grading is considered less accurate than for other forms. All three kinds of questions produce answers that help teachers understand what students have learned. Whether it's the story that emerges from an essay, the careful calculations of a math/science student, or making the right choice from a set of predefined options, we all know what it's like to have our knowledge and insight tested. At the same time, evaluation is very different in today's "grown-up" world of business—and ministry too. Today, we typically place a huge emphasis on one specific type of measurement as the only objective way to look at the real world. Management experts don't spend their days reading stories about "what's happening," because stories are seen as subjective opinion rather than objective fact. Likewise, while guessing the correct answer (or choosing a preferred option) is an interesting and popular pastime, it's no way to run a business. Such categorized data is labeled as "nominal" and downplayed because it is again seen as subjective. Managers want more concrete, more objective measures. If stories and multiple-guess answers don't meet the business need very well, what is left? Managers like to see
metrics:
calculated quantities that can be tuned to manage a system. This understanding is so strong in the modern world that when most people say "is it measurable?" they really mean "is it quantifiable?" So they tend to ask about sales volume or church attendance, and avoid deeper questions like whether real needs are met or people are gaining in
wisdom and spiritual understanding
. The result? Whether in business or ministry, when we say "if it isn't measurable, it isn't real" what we
really
mean is "if it isn't quantifiable, it isn't real." That's how we end up following aphorisms like "work to the numbers," based on an assumption that numbers are objective (accurate, undistorted by bias, factual, trustworthy, repeatable), while other data is subjective (biased by emotion, based on opinion, non-scientific, non-repeatable). From a
SLTy
perspective, we find that very sad. Is it shocking to suggest that
all
forms of data can be either objective or subjective? Often, we
assume
numbers are reliable, because today's computer technology makes it easy to work with them. Yet the old saw is still true: garbage in, garbage out. We have found there is a better way than focusing so much on the numbers.
Please sign up/sign in for the rest of the story...
Tags: categories, evaluation, measurement, numbers, objective, stories, subjective